The Nigerian film industry, often known as Nollywood, has been referred to as a flourishing space that provides a source for premium entertainment and also much more generates a sizeable amount of revenue for the Nigerian economy.
Nollywood, described as the world's second-largest movie industry by volume was also affected by the global COVID-19 pandemic which has upended the global film industry, halting film production and closing cinemas globally.
According to data released by the Cinema Exhibitors Association of Nigeria (CEAN), it revealed that cinemas across the country have been losing as much as 30% of their weekend revenues since January. The data further showed a continuous decline by the first weekend in February down to the beginning of March all in 2020.
As at the second weekend in March 2020, the figure had stood at N45 million naira greatly affecting the revenue of the industry.
In 2013, the industry was said to have made over 1,800 movies with the cost of producing each movie ranging between N4.9 and N13.9 million making it an industry with a high production capacity enabling it spread movie content across Africa and to Africans world over.
In 2017, the Nigerian box office is also said to have contributed significantly to tune of N4.3 billion with expectations and projections to witness growth to N6.4 billion naira by the year 2022.
In 2018, the arts, entertainment and recreation industry of which the movie industry is subset recorded 0.21% of Nigeria's GDP with a value of over N270 billion naira while in the first quarter of 2019, the industry raked in about N87 billion naira which represented 0.27% of the nation's GDP.
Despite its fiscal contribution, the industry which currently employs over 1 million people, making it one of Nigeria's largest employers, after agriculture is notably a relevant industry in the Nigerian economy but with the introduced lock-down by many governments to curb the spread of the Coronavirus disease, the industry experienced a slight setback particularly in the area of film makers getting their movies out there in the cinemas for public consumption.
However, with activities returning back to normalcy and cinemas resuming since September, the end of the year seems to be looking good with some notable movies showing already in the cinemas.
These 5 movies will keep Nigerian cinemas high-spirited this December
NNEKA THE PRETTY SERPENT
This movie, set for release in Nigerian Cinemas on December 18th, 2020, is from the producers of "Living In Bondage: Breaking Free" and "Rattlesnake – The Ahanna Story".
Nneka The Pretty Serpent is a remake of a 1992 popular Nollywood blockbuster and classic which tells the story of Nneka, a mermaid disguised as a human whose mission on earth is to go after married men.
The 2020 version of the movie which is to be distributed by Genesis Cinemas and Naira Box is a star-studded film featuring Idia Aisien in the lead role and has Charles Okpaleke as the executive producer and was directed by Tosin Igho and produced by Chris Odeh.
2. OMO GHETTO: THE SAGA
The story told in this movie revolves around a set of twins who are separated at birth and are living completely different lives. One is a ghetto kid and leader of a notorious female gang, while the other is raised in affluence and has anger issues.
The very popular ghetto twin is daring and ridiculously uncouth in her manners while the rich kid's temper almost results in the death of her fiancee, this incidence made her go into hiding for fear of being jailed. The ghetto twin, alongside her gang, are apprehended on their way to unleash terror on an unsuspecting victim.
The movie which will be available in the cinemas from December 25th (Christmas Day) features Funke Akindele-Bello (as Lefty) alongside, Chioma Akpotha (as Chummy Choko), Eniola Badmus (as Busty), Bimbo Thomas (as Nikky), Akah Nnani (as Mario), Alex Ekubo (Obi Wire), Zubby Michael (as Aza Man), Deyemi Okanlawon (as Stone), Timini Egbuson, Nancy Isime, Paschaline Alex, Mercy Aigbe among others.
3. QUAM'S MONEY
"Quam's Money" follows the adventure of a security guard-turned-millionaire 'Quam' played by Folarin 'Falz' Falana as he navigates the world with his new found wealth.
Set for premiere in the cinema on the 11th of December, 2020, Quam's Money is an Inkblot and FilmOne Distribution team flick which spins off a character from their 2018 movie titled "New Money".
The movie is written by Naz Onuzo and directed by Kayode Kasum has part of its cast – Nse Ikpe-Etim, Williams Uchemba, Toni Tones, Jemima Osunde, Blossom Chukwujekwu, Michelle Dede, Karibi Fubara and Buchi Ojeh.
4. RATTLESNAKE: THE AHANNA STORY
Already showing in the cinemas since its release a few weeks ago, Rattlesnake – The Ahanna Story is said to have garnered a total earning of N13 million naira in its first week.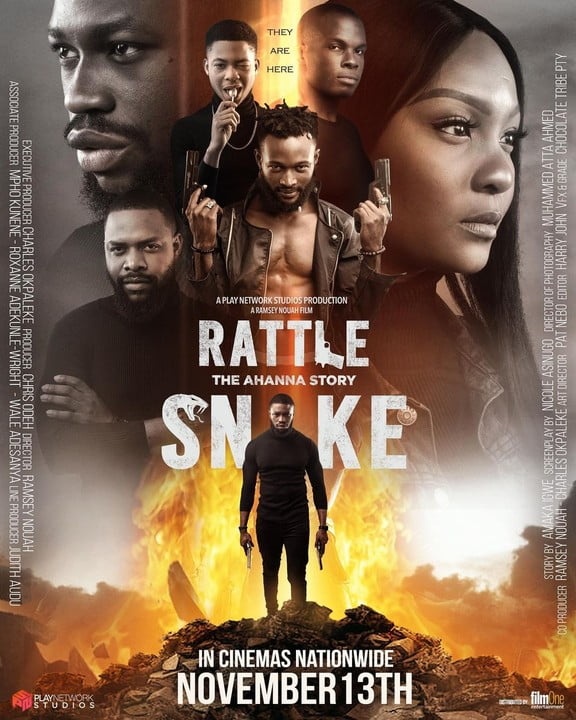 The film which is from the stables of Play Network Studios was directed by Nollywood's finest actor, Ramsey Nouah and tells the story of Ahanna and his journey into the world of crime.
The movie with a lot of reactions from critics was written by Nicole Asinugo and its based on the tragic hero first created by Amaka Igwe.
The film also stars Omotola Jalade-Ekeinde, Osas Ighodaro, Bucci Franklin, Efa Iwara, AY Makun, Emeka Nwagbaraocha, Brutus Richards, Odera Adimorah, Elma Mbadiwe and BBNaija season 5 finalist, Rebecca 'Nengi' Hampson.
5. KAMBILI: THE WHOLE 30 YARDS
This movie is a romantic comedy directed by Kayode Kasum and produced by Mimi Bartels for FilmOne and it tells the story of Kambili Maduka, an irresponsible, spoiled, spendthrift 28-year-old woman who is turning 29 in a few days.
The only thing on her mind is to get married before she turns 30. However, after getting suspended from work due to her incessant lateness, she goes on a date with her boyfriend and he breaks up with her, dashing her hopes of getting married before 30.
She decides that what she needs to do is prove to her boyfriend that she can be everything he wants her to be, which is; responsible, driven, focused and wife material.
Showing since December 4th in the cinemas, the movie stars – Nancy Isime, Jide Kene Achufusi, Elvina Baby Ibru, Sharon Ooja, Mawuli Gavor, Venita Akpofure, Mawuli Gavor, Koye Kekere-Ekun and more.
You can watch the trailer below:
This article is fact-checked.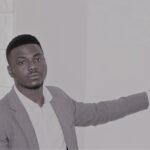 Osaze E. Isesele is a strategic communications and public relations enthusiast with interest in politics, enterprise and development. 
His over 7 years experience in the media and communications landscape spans print and broadcast journalism, digital and social media as well as corporate communications. 
Osaze resides and works for REPORT AFRIQUE from the Federal Capital Territory in Abuja, Nigeria.