Nigeria marked the celebration of its 61st Independence from colonial rule yesterday with a colourful fanfare in the nation's capital city of Abuja, but a part of the country, the South Eastern part populated by mostly the Igbo ethnic groups, was in a total lockdown restricting movements and commercial activities.
A separatist movement known as the Indigenous Peoples of Biafra (IPOB) had announced a sit-at-home on the independence day to make bold their agitations for a new and independent state in the east. The lockdown also served as a protest for the detention of group's leader, Mazi Nnamdi Kanu, by the Nigerian state Security Service known as the DSS.
Banks were ordered by the group to lower the Nigerian flags and all commercial activities were on lockdown in major cities across the eastern region.
Kanu was re-arrested in Kenya in June, 2021, after he jumped bail and fled the country in 2017. He is being tried for terrorism and treason by the Nigerian state.
Abuja Celebrates 61st Independence with Fanfare
While the South East cities became ghost towns, Nigeria's capital city of Abuja held a colourful event to mark Nigeria's 61st independence celebration.
The parade, which was witnessed by President Muhammadu Buhari and other dignitaries present at Eagle Square, was also broadcast live on national television.
It was coloured with military and para-military marches. Many cheered throughout the performance, particularly when some military personnel blindfolded, dismantled firearms, and reassembled them with great showmanship.
The event's acrobatic shows, punctuated with both contemporary and cultural dance displays, delighted the audience too.
IPOB's Weekly Sit-At-Home order: South East Economy Going Down The Drain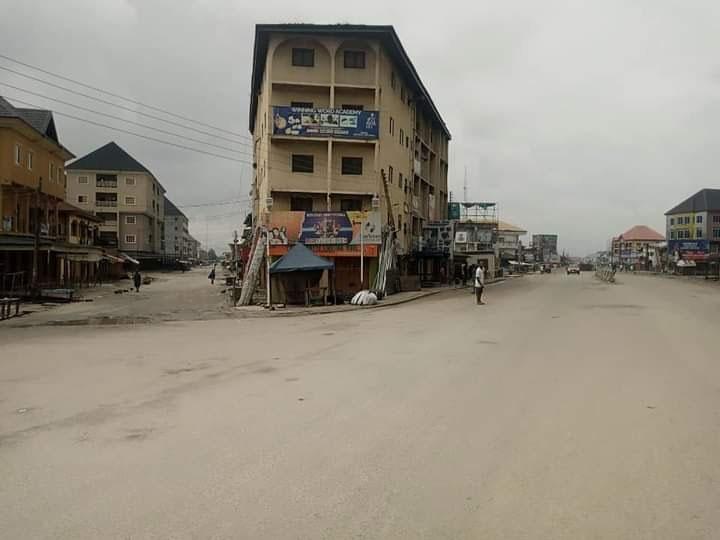 To protest the continuous detention of its leader, Kanu, IPOB ordered a weekly sit-at-home observed every Monday.
Workers stay off work and banks and all commercial activities are frozen once a week since Kanu was re-arrested by the Nigerian state in June.
Analyst say the region loses at least N10 billion weekly due to the sit-at-home compliance but IPOB insists compliance is voluntary despite several reports that people are being forced to comply and offenders are often beaten, killed or have their properties destroyed.
People Forced to Obey the Sit-At-Home Order
There are video evidences and reports that claim IPOB forces compliance of its sit-at-home orders on people. Videos of gunmen beating and destroying properties of offenders have been uploaded online by many eyewitnesses and victims. In some cases, offenders have been killed in very gruesome manners.
Vehicles Burnt, Travelers Killed for Disobeying Sit-At-Home Orders
Dozens of travelers have been reportedly killed by gunmen instilling sit-at-home order in Anambra, Imo and Enugu states.
The government has accused IPOB for the attacks but the group has repeatedly denied enforcing compliance. The group has also accused the government of carrying out attacks and blaming them on its members.
A bus conveying passengers was burnt with the driver inside along Mbaise area of Imo state by unknown gunmen for allegedly disobeying the sit-at-home order on Friday. Another truck was also set ablaze in the same area.
Despite repeated calls for a soft pedal on the sit-at-home orders, the group says it will continue to declare it until its leader is released by the Nigerian state.