"We Have Lost Four Men, We are Not Fighting Again…"
A video has surfaced online showing men of the Nigeria Police Force decrying deplorable welfare conditions they are being subjected to at the war front as they battle against Boko Haram terrorists.
The video, which is undated, shows a somewhat revolt by the policemen in a camp somewhere in the North Eastern part of Nigeria. The policemen can be seen in the video lamenting the deplorable welfare condition at the camp.
"We Have Lost Four People, We are Not Fighting Again." One of the men said as he records the ragtag environment they sleep.
Some of the policemen can be heard in the video saying, " We no fight again!" Meaning they do not want to continue the fight against the insurgents.
Some complained they are being owed their allowances by their superiors.
This is coming as over 150 policemen were said to have dumped their duty posts as a revolt against being sent to combat the insurgents. 121 of the men were later dismissed by the authorities for abandoning their duty posts.
Boko Haram had began a series of offensive against the Nigerian security forces. A military base was raided in November and hundreds of soldiers were killed by the insurgents.
Recent counter air raids by the Nigerian air force has left the insurgents with major setbacks. The army now claims the town of Baga, which was allegedly captured by the insurgents has been recaptured by the Nigerian troops.
This article is fact-checked.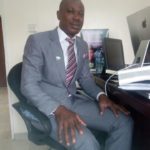 Miebaka is a seasoned journalist with years of experience. His vast work in Africa keeps him as one of the front line journalists in the region.