Nigeria's transport minister, Rotimi Amaechi, has been heard in a leaked audio recording to be expressing ill views about Nigeria and the administration of President Muhammadu Buhari, whose re-election bid he leads.
The recording was shared by Phrank Shaibu, a spokesperson for the Atiku Abubakar campaign.
In the audio recording, Amaechi portrayed president Buhari as a dismal failure who has been unable to meet the expectations of various segments of the society, ending with a dismissal of Nigeria as a never-going-to-change hopeless nation.
The transcript of the audio recording reads: "These are not things you publish ooo. If you publish them, you will never sit with me any day.
"Three years of Buhari oo, everybody is crying, crying…pressmen are crying, farmers are crying, workers are crying, politicians are crying, students are crying, three years oo!
"The rate of poverty is very high. The people are hungry. Nigeria will never change!"
Amaechi said in the audio recording.
This article is fact-checked.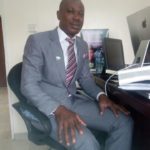 Miebaka is a seasoned journalist with years of experience. His vast work in Africa keeps him as one of the front line journalists in the region.