The video of reverend Father Ejike Mbaka coaxing the PDP vice presidential aspirant and former governor of Anambra state has gone viral with Nigerians lashing out against the priest for using money as basis for spiritual prophesy.
The video which was in Igbo has now been interpreted here:
MBAKA AND OBI: THE ENGLISH VERSION UNVEILED
MBAKA: Stay in front of these children of God and tell God what you will do for him.
OBI: (Moved) Continue Father
MBAKA: What are you saying or what that means is, you don't want to do anything for God? This is common deceit.
OBI: Father, what I said is straightforward. You will come and show me the project so that the two of us will talk. That is what I said.
MBAKA: That's a political statement.
OBI: (Smiling) Father knows I don't make political statements. Anyone here from Anambra state knows Peter Obi has never promised anything and failed. I am a fundamental Catholic. I do whatever I say at the church.
MBAKA: In your capacity and what God has done for you as governor … God hates stinginess.
What I am saying is not to please you, but what will save your life. Otherwise you and Atiku will fail.
If there is a place they will coat words for you, it is not at Mbaka's altar. You can save your political destiny. Or in 2019, you people will not even know how they did the election. What will make my brother to come for bazaar and he won't even break kola?"
Governors of Ebonyi and Enugu made donations without announcing at this altar, so do same.
Your own is taking time. The way you and Atiku are moving will end in shame.
Let us continue our bazaar. You know since he is not supporting us, the ministry has been moving. If people start arguing like this, their downfall begins.
I would make my prediction regarding the 2019 presidential election on December 31.
This article is fact-checked.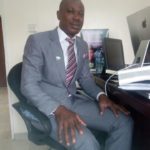 Miebaka is a seasoned journalist with years of experience. His vast work in Africa keeps him as one of the front line journalists in the region.