"I Want to Innovate on Use of Aso-oke, Fabrics, Others" – Abeke Mercy Ejibunu.
This exclusive interview with Abeke Mercy Ejibunu, the CEO of Helidiiam Couture, a fashion outfit in Ondo state, Nigeria, captures her passion for African fabrics and the innovations she explores into making a fashion statement in the industry.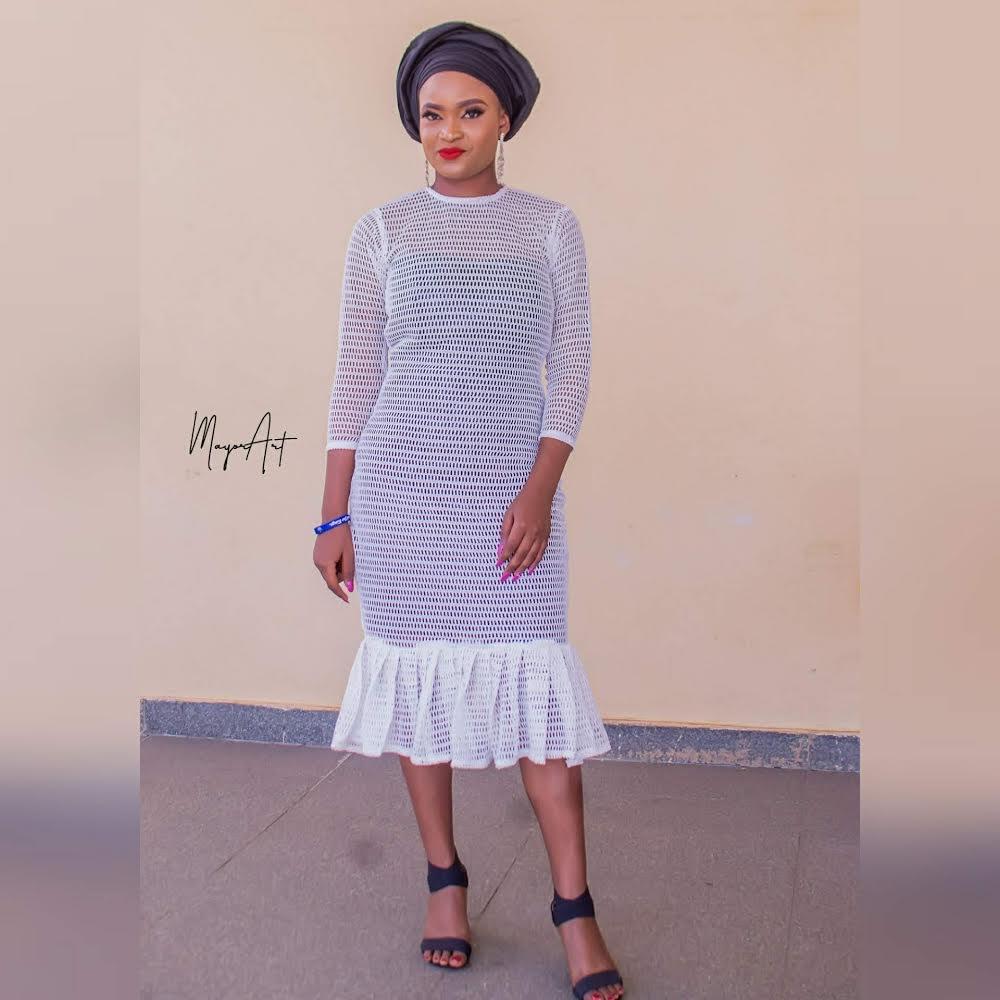 Interview: Tell us a bit about you and growing up years.
Ejibunu: My name is Abeke Ejibunu. I am a 29 years old native of Arigidi Akoko in Ondo State, Nigeria. A graduate of Chemistry from Adekunle Ajasin University, Akungba Akoko, Ondo State.

I am the CEO of Helidiiam Couture, a fashion brand operating out of Ondo City.

Growing up was amazing with its ups and downs. I was born in my hometown, but spent most of my years in Ondo town which has become a home for me and my family. I grew up here with my nuclear family of 6 people.

I have always been a fashion lover since I was very young. From making clothes with needles for teddy bears and plastic baby.

I also love drawing then. And whenever I do any drawing, I made sure I designed the dresses to my taste. I started choosing my designs for my tailors at age 10. Because I always loved to stand out wherever I go, even among my age groups then.
Interviewer: What influences would you say shaped you then?
Ejibunu: Aside the fact that I loved drawing designs at a very young age and making dresses for dolls, few things that sharpen me back then was, watching fashion shows on TV and whenever my dad buys newspaper then, I always don't care about the other news, all I wanted to see was the page for the fashion trends. I had a book back then, I would cut out different people who are on the newspaper with beautiful designs and paste on that notebook.
Interviewer: What challenges did you face?
Ejibunu: Back then, while training, I had a few challenges which includes training as a part-time student then, because I have to also go to work. After the training, I went to the University. The very first challenge I had was having clients to sew from me. And the fear of starting on my own was also a challenge. And yes, finance was one of the many challenges. Ranging from buying equipment and fabrics.
Interviewer: How have you managed the situation to become a brand in present day?

Ejibunu: The first thing was to sell myself to the people around me. My mum got me my first sewing machine. So, I decided to start making beautiful designs for myself. I made sure I attend church every Sundays, events too. And I always wear what I made for myself. People began to like what I wear and all, that was how I was able to win majority of my course mates back then and even people around me. As a young undergraduate, a lots of people know what I do for a living from the kind of promotion I gave myself. So, after my B. Sc. and service year, I came back to Ondo town. I used my room as my workshop. And then, I had my first student. From one student, we graduated to 4 and more. And today, we have produced 5 fashion designers and currently have 12 students. So, I had to upgrade my work space to a 3-bedroom flat. With lots of clients in Nigeria and oversea countries.
Interviewer: See that your industry has evolved so much in the last couple of years in Nigeria, how have you adapted to it?

Ejibunu: One thing is clear, change is the only constant thing in life. How we adapt to it is going to reflect on whatever we are building.The fashion industry is constantly changing, as a brand, Helidiiam consistently stays on trend and sometimes, ahead of it.This has been achieved via constant learning and relearning. One must be aware of the trends and do the best to stay in vogue. If you come to terms with the fact that the fashion industry is fluid and if you cannot keep up, you will lose out, it will put things in perspective.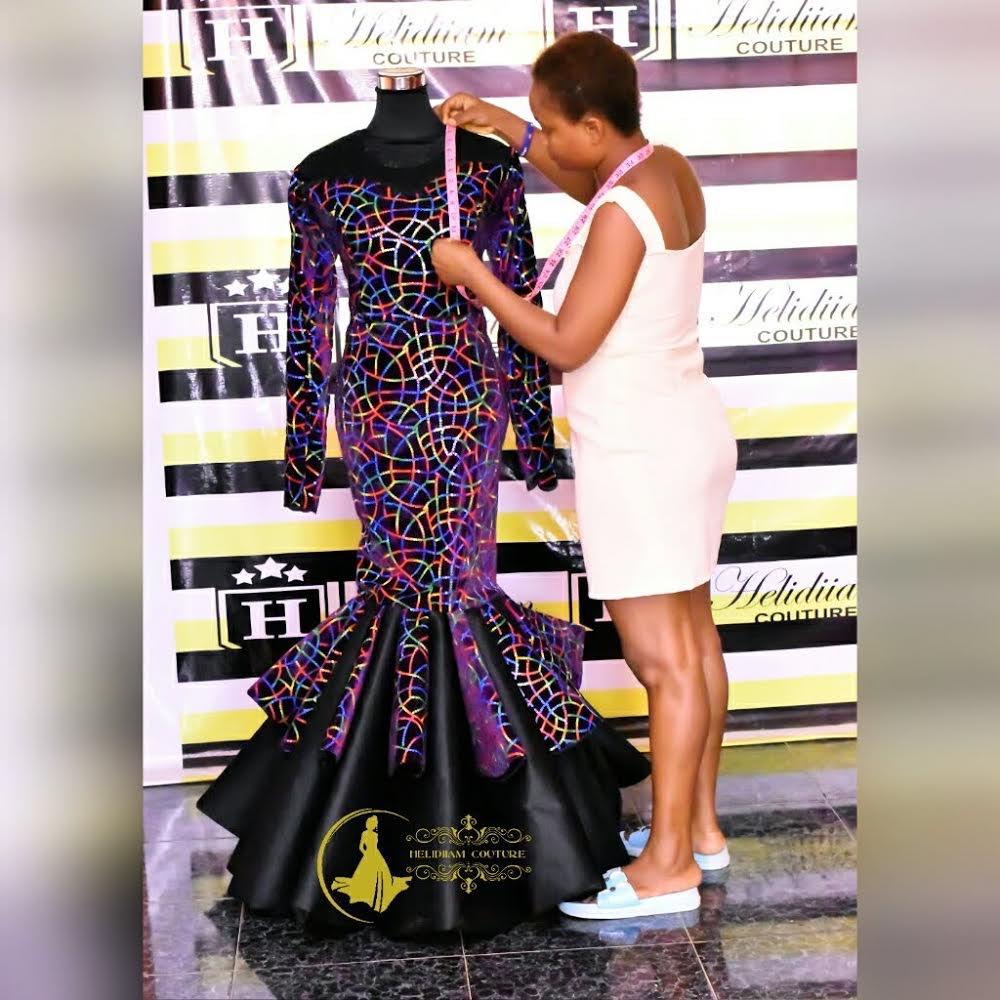 Interviewer: What stands you out, makes you unique, in a populated industry like yours?
Ejibunu: One of the things that made me stand out is the fact that I am versatile when it comes to dresses for women. Both the plus size and medium size. We run virtually everything related to women's clothings. Moreso, the finishing on our dresses are topnotch. We don't just deliver, we give the best to our clients.We also run a fast sewing business for our clients, whereby you can bring in your fabrics and get it done in less than 48 hours, depending on the designs chosen.
Interviewer: What's next for you?
Ejibunu: First, I want to relaunch the use of asooke, adire to make comfortable office wears. I once did that, but due to lack of funds, I couldn't. So, that's the next thing on the agenda. Also, I want to run mobile sewing. First thing to do, is log into our website if you have your fabrics, probably for an event. You'll book an appointment with us. We come in with our team, make the dress, and deliver that same day, on the spot. Except for exclusive designs which might take more than 6 hours.-