Popular Nigerian televangelist, Temitope Balogun Joshua, also known as Prophet TB Joshua, has reportedly died, Leadership Nigeria, a local newspaper in Nigeria, has reported.
Mr Joshua, 57, the founder of a Nigerian mega church, The Synagogue, Church Of All Nations (SCOAN), was said to have died in Lagos on Saturday evening shortly after concluding a programme at his church, The Peoples' Gazette, another Nigerian online Newspaper, reported citing family sources who did not want to be quoted as an official statement was still being prepared.
in March, 2020, REPORT AFRIQUE reported that TB Joshua had prophesied, in February 2020, that the coronavirus pandemic would end on the 27th of March, 2020 but his prophecy was never fulfilled.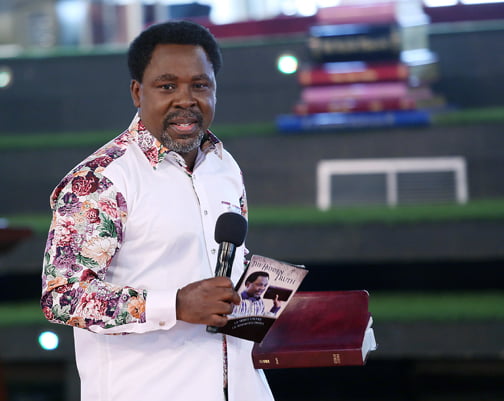 TB Joshua was known for his popularity across Africa and Latin America with a social media presence with over 3,500,000 fans on Facebook.
His YouTube channel, Emmanuel TV, had over 1,000,000 YouTube subscribers and was the world's most viewed Christian ministry on the platform before it was suspended.
The cause of his death was not mentioned in the news reports covering TB Joshua's death.