Guest Speaker,Comrade Phils exposes how to gain electoral success using the social media
The influence of ICT and social media on elections in this current age and generation can never be over emphasized. Political Candidates and parties who either ignored or paid lip service to it have always come out praying for a second chance.
It was in view of this growing impact of social media on politics that the Imo State PDP New Media directorate, in partnership with Social Metrics Limited, organized its first ever seminar/workshop under the theme GOVERNANCE AND POLITICS IN THE AGE OF NEW MEDIA AND BRANDING.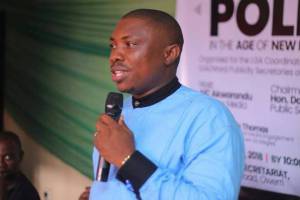 The event which was declared open by the state chairman of the party, Barr. Charles Ezekwem had in attendance Rt. Hon Emeka Ihedioha, Hon. Damian Oparah, the state publicity secretary of the party, Engr. Kingsley Onwuiko, who sponsored the event, and the entire state Exco of the party and its Ex Officio.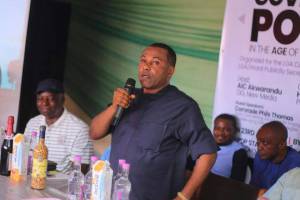 In his speech, Barr Ezekwem said Imo PDP was poised to take back governance of the state and has learnt their mistakes fron the past. He said the era of imposition of candidates were over as all aspirants across board will be given a level playing field at the primary elections set to commence soon. He acknowledged that PDP in the state is now more united as all members are ready to work together to achieve their common goal
Hon. Oparah who also doubled as the chairman of the occassion tasked the social media team of the party to play by the rules and engage all the aspirants equally. He reiterated the growing influence of social media and urged all to harness the opportunities therein.
The lecture series was kicked off by renowned New Media specialist and strategist, Comrade Phils Thomas who spoke on "Converting Social Media Engagements To Votes Using Data Driven Strategies". Uwakwe Martin spoke on " Creating Viral Contents" while Victor Bella spoke on "Social Media Management Tools".
Participants expressed joy over the impact of the training stressing that it has widened their knowledge of the social media usefulness in politics and governance.