DIKEMBE MUTOMBO's 
CHILD WITH FACE TUMOR TRAGICALLY DIES DURING SURGERY
The Congolese child Dikembe Mutombo flew to the U.S. to remove a massive tumor from his face has sadly died after he suffered a "rare and unpredictable genetic reaction to anesthesia" during surgery.
8-year-old Matadi Sela Petit died Friday night after complications from his delicate surgery at Cedars-Sinai Medical Center in L.A. says The Dikembe Mutombo Foundation. Metadi was from the Democratic Republic of Congo.
"We are devastated by the loss of Matadi and our heart goes out to his father, his mother and the rest of his family, and all his old and new friends." The foundation, which was created by retired NBA star Dikembe Mutombo, announced the news in an email Saturday morning.
.
Matadi went into cardiac arrest during his surgery and was transferred to the ICU, but we didn't know why his operation wasn't completed. Now we know it was due to his bad reaction to the anesthesia, but despite the best efforts of his medical staff … he was never able to recover.
Matadi's operation was led by Dr. Ryan Osborne from Cedars-Sinai. Dr. Osborne volunteered his services, after being inspired by the good work of Mutumbo. The family had been staying at the Ronald McDonald House since arriving in Los Angeles last week.
the former NBA star flew Matadi to the U.S. a week ago for free surgery in hopes of removing the life-threatening, massive tumor on his face. We captured their meeting at LAX.
His foundation says Matadi was "was a pioneer, and his memory will inspire us to continue to develop efforts and partnerships to improve the lives of the children of the Democratic Republic of the Congo."
This article is fact-checked.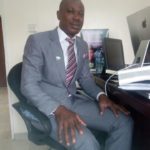 Miebaka is a seasoned journalist with years of experience. His vast work in Africa keeps him as one of the front line journalists in the region.