Turkey has given its first official statement on the events surrounding Washington Post writer Jamal Khashoggi killed in the Saudi consulate office in Istanbul.
Though without any concrete evidence, the statement puts clarity to series of media reports about the murder at the Saudi consulate in Istanbul on 2 October.
Chief prosecutor Irfan Fidan said meetings with his Saudi counterpart this week led to "no concrete results".
Saudi Arabia has not commented on the meetings.
The Turkish statement said: "In accordance with plans made in advance, the victim, Jamal Khashoggi, was choked to death immediately after entering the Consulate General of Saudi Arabia."
His body was then dismembered and destroyed "again, in line with advance plans", it added.
Khashoggi, a Saudi national working for the US press, was a well-known critic of his home country's rulers. His body has not been found, but Turkey, the US and Saudi Arabia have all agreed that he was killed at the consulate.
There is still no consensus on how he died.
What happened in the latest meetings?
Turkey said it had put three main questions to the Saudis during the prosecutor's visit:
Where is Khashoggi's body?
Do they have any new information about the planning of the killing?
Who was the "local co-operator "?
An unnamed Saudi official previously told Reuters news agency that Khashoggi's body had been rolled in a rug and given to a "local co-operator", who disposed of it.
On Wednesday, the delegation responded the questions in writing, according to Turkey.
Saudi Arabia said the answers could only come from a joint investigation. It also noted that it had never given an official statement on the existence of a "co-operator".
What do other countries say?
Saudi Arabia has faced backlash over the death, including from its allies, who have called for answers.
President Donald Trump has said he is "not satisfied" with the Saudi account. However, he also said he was unwilling to sacrifice lucrative arms deals with the country.
Meanwhile, US activists have launched a petition, calling for a section of road near the Saudi embassy in Washington to be renamed Jamal Khashoggi Way.
On Wednesday, France's foreign minister Jean-Yves Le Drian said Khashoggi's death was a "crime" and "odious".
He said France was not "dependent on our economic relations with Saudi Arabia" and the country would impose sanctions, but no details were given.
UK Foreign Secretary Jeremy Hunt also said it was an appalling act, adding that it had "possibly" given the US and the UK a chance to put new pressure on Saudi Arabia over other issues.
This article is fact-checked.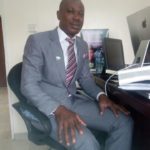 Miebaka is a seasoned journalist with years of experience. His vast work in Africa keeps him as one of the front line journalists in the region.