GRAPHIC IMAGES | Pictures of the scene where Alex Badeh, Nigeria former chief of defense staff, was assassinated have emerged.
Badeh was assassinated along Abuja-Keffi road this evening in what seems to be a marked execution.
See pictures below:
The air force confirmed the death in a couple of tweets on its official Twitter handle. An official statement was released afterward and sent to newsmen.
This article is fact-checked.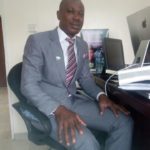 Miebaka is a seasoned journalist with years of experience. His vast work in Africa keeps him as one of the front line journalists in the region.