An independent autopsy, commissioned by his family, has found that George Floyd's death is a likely homicide due to asphyxiation from sustained pressure.
The autopsy was commissioned by Floyd's family. The result says compression to the neck and back, caused by officers kneeling on him, led to a lack of blood flow to the brain.
Floyd was killed in an altercation with four policemen for presenting a forged cheque in a local store in Minneapolis after one of the officers knelt on his name for approximately 9 minutes.
The official examination also said underlying health conditions played a role in Mr Floyd's death.
But the two doctors hired by the Floyd family found the death was a homicide, a statement from its legal team said.
"The cause of death in my opinion is asphyxia, due to compression to the neck – which can interfere with oxygen going to the brain – and compression to the back, which interferes with breathing," Dr Michael Baden, a former New York City medical examiner and one of the pair, said at a news conference.
The independent autopsy's findings came after the Hennepin County Medical Examiner found "no physical findings" to "support a diagnosis of traumatic asphyxia or strangulation," according to a criminal complaint released by the Hennepin County Attorney's Office on Friday.
Preliminary autopsy results cited in the complaint involving Chauvin said combined effects of being restrained, any potential intoxicants in Floyd's system and his underlying health issues, including heart disease, probably contributed to the man's death. Toxicology results can take weeks.
Floyd was essentially "dead on the scene" in Minneapolis on May 25, Ben Crump, attorney for the family, said Monday.
The complaint noted the findings are preliminary and the full report from the medical examiner is pending.Dr. Michael Baden, one of the independent medical examiners, said "there is no other health issue that could cause or contribute to the death.""Police have this false impression that if you can talk, you can breathe. That's not true," Baden said.Floyd's cause and manner of death remain pending and is being investigated by local, state and federal law enforcement, the Hennepin County Medical Examiner's Office said in a statement."George died because he needed a breath. He needed a breath of air," Crump told reporters.
Outrage and Protests
A video showing a white police officer continuing to kneel on George Floyd's neck even after he pleaded he could not breathe sparked outrage when it emerged a week ago.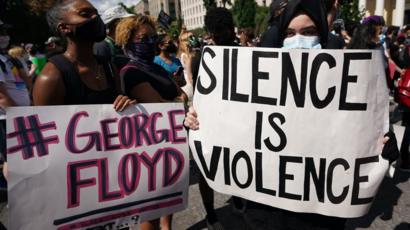 It has led to six consecutive days of protests around the United States and a level of civil unrest not seen this widely across the country in decades.
At least 40 cities imposed curfews and National Guard members have been activated in at least 23 states and Washington, DC.
Germany
Crowds gathered in Berlin in front of the US embassy on Saturday and Sunday. Participants wore face masks and carried signs declaring "Black lives matter" and "Justice can't wait".
France
Activists wearing black clothing and face masks took a knee and held up signs reading "I can't breathe," "We are all George Floyd" and "Racism chokes us" in Paris on Monday.
Britain
In London, protesters rallied in Trafalgar Square on Sunday morning, in defiance of Britain's lockdown rules which prohibit large gatherings.Some participants marched to the US embassy in the capital's Nine Elms area.
Denmark
Chants of "no justice, no peace" were heard In the streets of Copenhagen on Sunday, as protesters marched over Floyd's death. Some rallied outside the Danish capital's US embassy.
There are protests in over 20 more countries and counting. George Floyd's death is a crowning for police brutality against African Americans.