Popular Nigerian journalist, Kemi Olunloyo is still in the Port Harcourt maximum prisons 82 days after being remanded in October 2017.
In a phone chat with our reporter today, Kemi said her case at the high court has been adjourned to April 2018. She, however, said that her lawyer, which she referred to as Eugene, was has refused to take proper steps to effect her release. She accused her lawyer of repeatedly making vain promises without matching his words with actions.
Popular online personality and publisher, Comrade Phils  Visited Kemi in the prisons in November 2017 and documented his visit thus:
Today, I visited Kemi Olunloyo @hnnAfrica at the Port Harcourt Maximum Prisons.

It was a touching moment. She has been incarcerated since October 12 for Bench Warrant in what seemed to be a conspiracy by her former lawyer. She alleged that she had filed a request for absence in the court through her lawyer on health grounds only to discover that the letter was never submitted by her lawyer. In her words, her former lawyer was bought over by people who want to keep her continuously in detention.

Despite being incarcerated for weeks, she was still very strong. Her voice pitched high as usual and her words well chosen and spoken in her usual polished parlance.

I sat opposite her and listened as she recounted the moments of her arrest. She told me how a SARS officer without an ID nor a uniform arrested her in what initially seemed like a kidnap incident only to discover she had been carefully framed up and her detention process perfected to ensure the odds worked to disallow her from being granted bail.

At one point, she stared directly into my eyes and said

" Phils, I am not safe here. I have been repeatedly told to be careful. My life is in danger here!"

Even in the stench of that badly kept facility, her raving smile was imminent. She would pause as she spoke and rekindle her words with an unassuming smile at each instance leaving strange emphasis at each turn and twist of her gory experience in the hands of the lawless Nigerian law. Kemi believes her ordeal is perpetuated by a powerful man of God in Rivers State whom she is up against in the court.

Kemi's hand written message to his fans

As I listened to her and knowing how controversial Kemi has come to be, I began searching for reasons to disbelieve her. I reflected on my encounters with prison staff right from the gate to the point of meeting Kemi inside the prisons. It was, perhaps, the most horrible site of corruption I have witnessed in recent times. Every point of encounter was an extortion centre for the prison staff. Every bit of that experience only helped me believe Kemi much more for I saw clearly a system where money could keep anyone longer behind those walls with just a few spread going to waiting pockets.

To fill a form to see a prisoner, one had to pay some naira, to submit the form, required another payment. To get it stamped required another payment, even to move from one office to another in the process of gaining entrance, you are required to make multiple payments as you get closer to the inner door that leads inside the prison. I have never seen such manner of widespread and open corrupt practice before. After multiple payments, I asked if these levies were legal and the answer I got was worse than the ugly experience of having to pay those illegal levies.

I reflected on these and on the future of Nigeria, my heart stopped beating for a moment. I was overtaken by the maze of thievery that was going on there. In my instance, I counted 12 visitors and imagined how much these prison staff had extorted in less than one hour from all of us. There and then, I knew Nigeria's problems were far from the walls of Aso Rock. Our problems are not groomed from the green and red chambers of the National Assembly. Our problems lie in the decaying hearts of our citizens and the loose fabrics of our moral characters. Nigeria is installed on a faulty operating system infested with viruses stored in its root files.

Now, this is supposed to be a correctional facility where offenders are supposed to be rehabilitated to become better citizens but it seems more like a breeding house for criminals. A training ground to perfect crimes and to learn new acts to aide the disobedience of the law. Here, they have made extortion so normal it now seemed illegal not to engage in it. The Port Harcourt Maximum prison is clearly a den of thieves in government uniforms.

Still, Kemi was in front of me, her lips tired from the awful repetition of what she had passed through since that article of hers with contents spilt against a popular pastor in Port Harcourt landed her in this god forbidden hell. Her strength in the midst of misery remains a wonder. She picked up her pen and said:

"Phils, I have a message for my fans."

She then penned it down thus (attached):

"I am grateful for my fans' loyalty to me. I am in good spirits."

Signed and dated it.

" The next hearing is on the 12th of December, 2017. That is when I will be granted bail again."

She added.

For me that was it. If this experience was intended to break her spirit, she has refused to be broken. Before me, was no less, the very Kemi Oluloyo we all know.

Whoever initiated the re-arrest of Kemi will tell you he wanted justice; but I can tell you with what I saw at that prison today, before the Nigerian law, Kemi now needs justice more than anyone else in this case.

Comrade Phils
This article is fact-checked.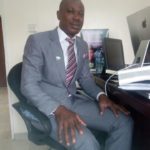 Miebaka is a seasoned journalist with years of experience. His vast work in Africa keeps him as one of the front line journalists in the region.