Nigerians in London protested today against police brutality in Nigeria. Using the #EndSARS tag, that has now gone viral, they assembled in front of the Nigerian high commission building in Northumberland Avenue, London to decry the incessant brutality faced by innocent Nigerians in the hands of state police force.
British Actor, John Boyega tweeted about the protest Saturday urging people to support the demand to end police brutality in the west African country.
The Star Wars actor also announced on Twitter that an anti-SARS protest would hold at the Nigeria High Commission in London, the United Kingdom, on Sunday.
Boyega posted an illustration via his handle, @JohnBoyega, showing protesters carrying placards with the inscriptions, "EndSARS, EndPoliceBrutality, and EndSARSProtest."
"Nigeria High Commission, 9 Northumberland Avenue, London, WC2N 5BX. Closest station in Charing Cross. Sunday, 11th October; 12:00pm," the actor tweeted about the upcoming protest."
The protest held Sunday and attracted hundreds of Nigerians and non-Nigerians who stood up for hours to support Nigerians back home to demand an end to police brutality.
Nigerian pop sensation, Wizkid also showed up for the protest in London and addressed the crowd.
The government announced it has dissolved the notorious SARS police unit, Sunday, in a press briefing by the Inspector General of Police, Adamu Muhammed.
Despite the dissolution of the special force unit, protesters said on Twitter that the police still shot at them while protesting in Abuja on Sunday.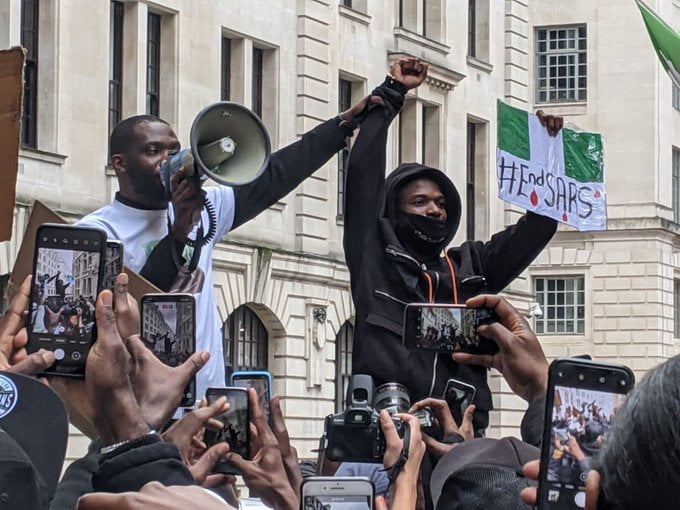 Here are some of the pictures from the protest: