South-East and the North-East delegates have split over whom to vote between Former Vice President, Atiku Abubakar and Senate president Bukola Saraki at the ongoing national convention of the Peoples Democratic Party, PDP, taking place at the Adokiye Amiesimaka Stadium in Port Harcourt, Rivers state, an aide to Saraki told WIRED Nigeria.
The aide also revealed that 37 votes from delegates living with disabilities have equally gone to Saraki and at least 138 lawmakers who are delegates have reportedly backed the Saraki.
According to him, "Following marathon meetings with 22 state caucuses and PDP blocs, Saraki has secured the votes of all the North Central States, 138 federal lawmakers and at least 37 votes from people with disabilities."
He however said that while 34 serving lawmakers have backed the Governor of Sokoto State, Aminu Tambuwal,  that 28 others have gone for Atiku.
He said among the 5 States in the South-East, that delegates have been split between Saraki and Atiku on a 3:2 basis, while in the North-East, delegates have been split between Saraki and Atiku on a 3:3 basis. He also claimed that all North Central delegate caucuses have backed Saraki. Meanwhile, one of the 13 aspirants jostling for the party's ticket, Tanimu Turaki, has asked PDP delegates to vote for Saraki if, for whatever reasons, they reject him.
Turaki, in a video, said only him and Saraki possess the pedigree, competence and character to solve Nigeria's problems. He said, should the delegates reject him, that they should however, not hesitate to vote for Saraki whom he said is his brother.
This article is fact-checked.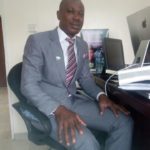 Miebaka is a seasoned journalist with years of experience. His vast work in Africa keeps him as one of the front line journalists in the region.