Ms Eunice Osayande was stabbed 17 times by her client in Brussels in 2018. The authorities in the city where she was killed says a street it will name a street after her as part of a wider campaign to recognise women in Belgium.
The city of Brussels has said it will name a new street after a murdered Nigerian prostitute, as part of a wider campaign to recognise women in Belgium.
Deceived by human traffickers, she had moved to Belgium from Nigeria in 2016 with the hope of becoming a movie star. It was not long before Osayande discovered that she had been tricked. Her agents then forced her into prostitution before killing her.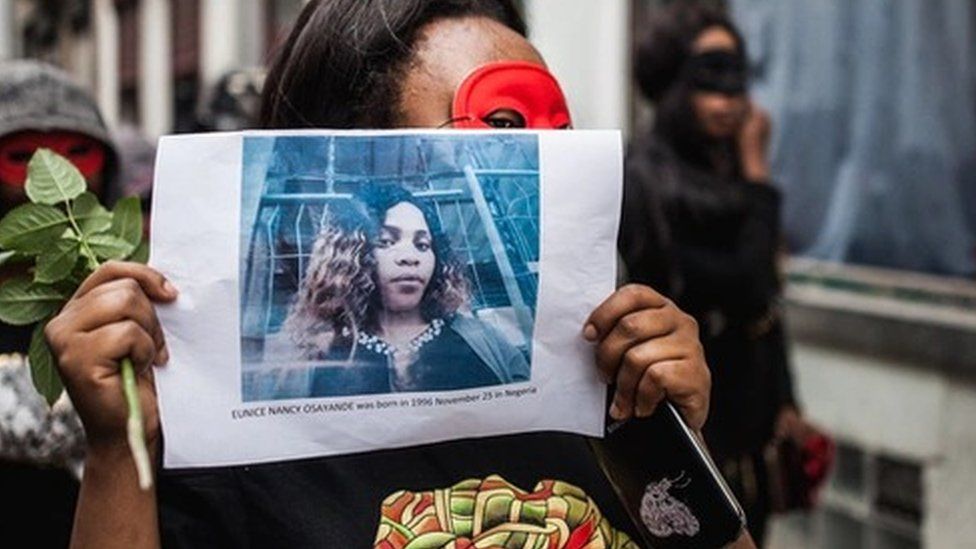 She was told she owed the smuggling gang €45,000 (£38,000; $52,000) for her transit, pimps and rent.
In the weeks leading up to her death, she had contacted a sex worker charity and told them she was experiencing violence and intimidation while working. She feared she couldn't go to the police because she was an undocumented migrant.
In June 2018, at the age of 23, Ms Osayande was stabbed 17 times by a customer in the Gare du Nord district.
Protests led by the migrant sex worker community in Brussels soon erupted. The marchers demanded better working conditions and called on local authorities to create clear legal guidelines for the sector.
Prostitution is not illegal in Belgium but there are no unified national rules.
Maxime Maes, director of the UTSOPI sex workers union in Brussels, organised the march.
"Eunice's death has been extremely distressing, especially for undocumented migrants in the area where she worked," she told the BBC.
"The area has seen increasing violence and the most marginalised women are targeted."
A 17-year-old man was charged with Ms Osayande's murder and is awaiting trial. Four members of the trafficking ring were also arrested and in January this year received prison sentences of up to four years.
By naming a new street after Ms Osayande, the City of Brussels said it wanted to draw attention to all the "forgotten women who are victims of human trafficking, sexual violence and femicides".
The street will be the first named after a sex worker in the country, according to Belgium broadcaster RTBF.